When it comes to unwanted noise in a computer the two main sources usually are the fan and hard drive.
If your goal is just to find the quietest fan then check out the Cooler Master Sleeve Bearing 120mm Silent Fan. It's the best one around.
Now onto the hard drive, which is a more complicated decision. I've picked out some of the quietest hard drives you can find on the market today, but first a bit of background knowledge on the different speed of hard drives vis a vis the noise they put out.
Note that this review covers hard disk drives, not solid state drives, which are much more costly (though they're super quiet!).
Hard Drive Noise Comparison –  7200rpm vs 5400
If we're looking at performance, 7200 rpm hard drives give an average 120 MB/s write and read speed which is impressive and the 5400 gives 100 MB/s read and write speed which is a little behind the 7200 rpm.
With that being said, the 7200 rpm hard drive is a bit noisier compared to the 5400rpm disk. Base on research done by TechReport, it shows that there is a 3 decibel difference between the two hard drives.
Maybe you're thinking that it's not much of a difference, but 3 percent is actually significant enough for the human ear to notice.
On the decibels scale, sound doubles with a 10 decibel increase (e.g. 10 decibels = 2× loudness). In other words, 3 decibels difference between the 7200rpm and the 5400rpm is equivalent to a 23% increase in loudness which is quite a lot and something you will surely notice.
The Best Quietest Hard Drive
WD Red 10TB NAS Hard Drive – Editor's Choice
It's a bit impossible to talk about quiet hard drives without mentioning WD Red 10TB NAS. We strongly believe it's one of the quietest hard drives you can find on the market today. It is designed to use with NAS (Network Attached Storage) devices instead of desktop computers.
This superb quality hard drive is available in 1tb to 12tb capacities so you have many options to choose from. Even though this amazing drive is designed to use with NAS devices, you can certainly use the WD Red 10TB NAS as a normal desktop drive for storage. However, before installation, you should make sure your operating system and motherboard are up to date to recognize the disc.
These drives have the ability to run for as long as 24 without stopping. With this, you get a three-year warranty which is impressive since you only get 2 years with the WD's green and blue desktop drives.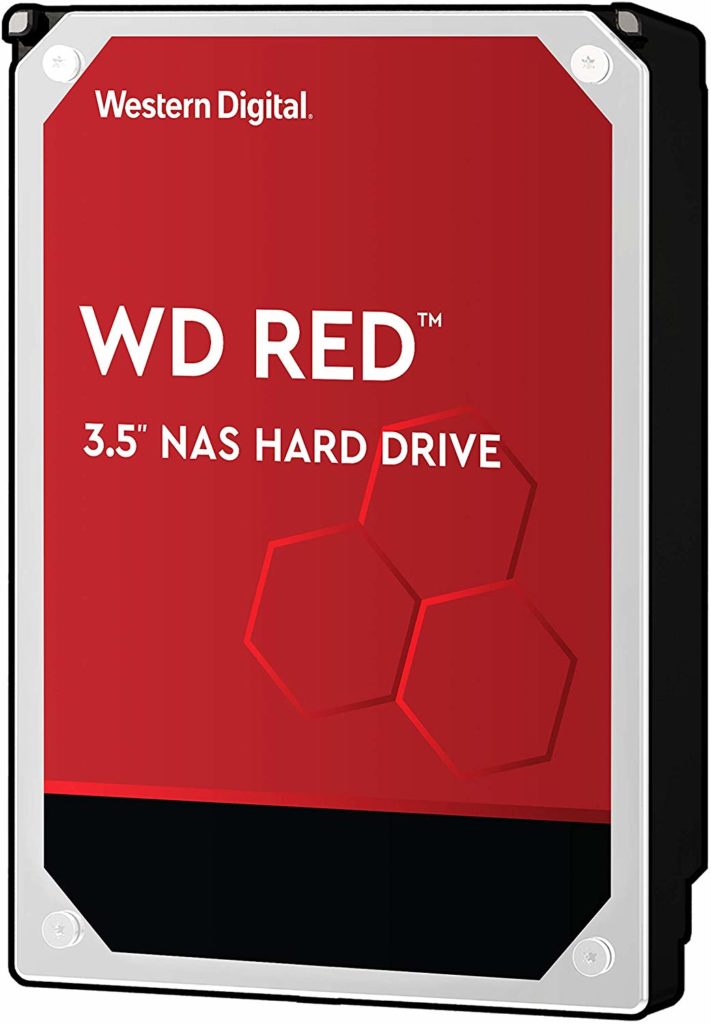 When it comes to buying a quiet hard drive whether it's for your personal use or work, there are several factors you will need to keep in mind before purchasing. These factors include the following.
Storage Capacity
This is one of the most important factors to keep in mind when searching for the best hard drive for the money. Most people tend to just buy a drive then afterwards realize how quickly a 500GB or 1TB is filled. If you're a desktop owner this shouldn't be a problem since you can easily just add a few more drives, but for laptop owners, things are much different since you have to swap to another drive.
So the best idea is to invest in a hard drive that has tons of space so you don't have to worry daily about the storage being filled. Even though you can easily upgrade your drive whenever you want to higher storage, I don't think it's a good idea unless you don't mind spending a few extra dollars.
Performance
By now you should know that not all drives give the same performance. HDD normally comes in 4200, 5400, 7200 and 10,000 revolutions per minute. As you can see the higher the rpm, the faster and smoother the disc will process all your data, but to get the best, you'll have to spend more.
We already know that 7200 rpm drives give far better performance than 5400, but it's important to remember the other factors that come into play as well. Most of the drives that come into desktops these days are 5400 rpm which tends to be the drive for average PC users. But since we're taking the noise level into consideration, it's best to choose a disk drive that's capable of giving you great performance while at the same time providing you with a decent noise level that isn't too loud.
Warranty
This is also another important factor. An old trick in the book to see how long the manufacturer expects the hard drive to last is to look at the warranty they offer. Trusted brands such as Seagate and Western Digital provide you with up to five years warranty on their products, which should cover you in case anything bad happens.
Manufacturers
There are many different types of manufacturers out there that specialize in manufacturing hard drives. While there are tons of customer reviews online that can help you filter down the best brand hard drive for your needs, it's also important to know that a lot of these reviews are biased and only say things because they're a fan of the brand.
One of the best ways to filter the best hard drive manufacturers is to read expert reviews. You should always pay close attention and make sure you only invest in a quality hard disk drive from a trusted brand.
Some of the biggest brands include Samsung, Toshiba, Hitachi, Western Digital and Seagate. Now that I've listed some of the most reliable brands, with customer reviews and expert reviews you should be able to sort through and choose the hard drive that best suits your needs.
What Should I Do After Purchasing a Silent Hard Disk Drive?
This tends to be one of the most common questions asked by our readers and because of that, I'll share exactly what you should do after purchasing a new hard disk drive online and how to detect any faults as early as possible.
Over the years, I've been using several different brands including Samsung, Seagate, etc. The first thing I recommend doing is to check the packaging carefully that the disk has arrived in. The drive is usually placed between two plastic holders inside the box, the reason being is to help suspend the drive and prevent it from being damaged during transit.
Now that you've properly inspected the packaging next step is to install it. But before installing the disk drive, you should wash your hands or wear gloves. This should help avoid transferring finger oil to the drive.
After you've installed it, the last step would be to format the drive once. You can run a few passes on the drive to ensure that each sector is completely formatted. Once you're finished, you can now check the Smart data and pay close attention to anything alarming. Watch carefully for reallocating sectors, RUEs and failed reads.
Use an SSD Instead For a Noiseless Computing Experience
A hard disk drive contains a disc that spins as soon as the computer is switched on. It's from the spinning that the hard drives get their ratings and it's also from the spinning that makes the drives noisy. On the other hand, instead of using a hard drive you can invest in a Solid State Device (SSD). These have no moving parts, it only uses a Negative and flash memory, so you won't experience any form of noise.
Conclusion
One of the best things you can do is invest in a quiet disk drive. This will give you the ability to work in a quiet environment without any form of distraction. But if you're willing to spend a bit more, you can opt for an SSD drive since they are much quieter compared to using a hard disk drive.
Related Read: How to Fix a Loud Laptop Fan Making Noise