If you live on a noisy street or have loud annoying neighbors, I'm sure you're tired of all the sleepless nights and want to do something about it.
Having loud neighbors or living in a noisy neighborhood is one of the worst things to experience, but by using soundproofing blinds you can lessen the noise and get a little peace and quiet.
Though you should keep in mind that even the best soundproof blind on the market can never 100% soundproof a window. In order to achieve the best result, you should use blinds with other effective soundproofing methods.
Let's have a look at the best blinds available.
5 Best Soundproof Blinds
1. Custom Cordless Single Cell Shades by Windowsandgarden – Editor's Choice
One of the best blinds on the market for reducing unwanted noise is the Custom Cordless Single Cell Shades by Windowsandgarden. I've personally used these and I can guarantee that you'll love the amazing results you receive.
These noise-reducing blinds are made from polyester material that's very effective in terms of reducing noise. What I really like about these blinds is the fact that they can be easily cleaned with a regular duster.
The installation process is relatively easy. I installed mine inside but they can be installed from the outside as well, it all depends on your preference.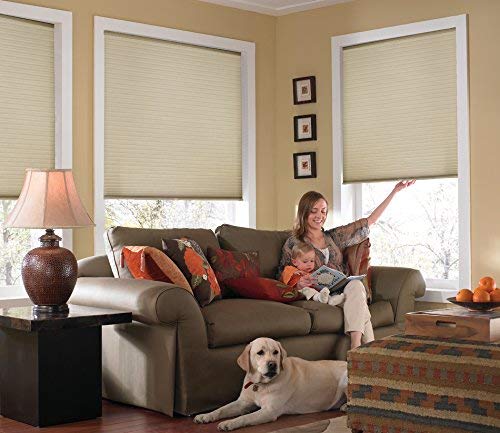 Apart from reducing noise in your room, they can also help to block outside light from entering, giving you the privacy you always wanted. They're also available in 50 different sizes so you'll have the ability to choose the right one based on the size of your windows.
The only problem I find with these blinds is the fact that they're a bit too thin. I wish they were thicker. While they did a good job when it comes to sound absorption, I still decided to hang noise blocking curtains on my bedroom windows for maximum noise reduction.
---
2. First Rate Blinds – Cordless Double Cell Blinds – First Runner Up
Another effective blind that's worth every penny is the First Rate Blinds. These blinds are totally worth the investment if you're looking for a high-quality soundproofing blind. They are cordless, so you don't have to worry about your kids or pets playing around with the cords all day.
These blinds are a double cell which is an amazing feature. This means that the rows of the cell are back to back, giving you double the insulation. They also insulate you and increase your energy efficiency a little better than single-cell shades.
They are available in many different sizes from 24″ W × 36″ H all the way up to 44″ W × 84″ H. You also have multiple colors to choose from, including daylight, ivory, tussah, amber, dove grey, vanilla, espresso and white. With this diversity of colors, I can guarantee that you'll find one that best suits the decor of your room.
They're ideal for installation in the kitchen, bedroom, bathroom or in your home office or any other room where you need sound and thermal insulation.
---
3. Calyx Interiors Cordless Honeycomb Shades – Second Runner Up
Calyx Interiors shades are also one of the most attractive as well as most effective noise reducing shades you can find out there. The only downside with this is that the price is a bit expensive compared to other shades.
These blinds are made from light-blocking material, darkening your room for the privacy you're always searching for. They're also cordless which is the safest option if you have kids or pets around your house.
Calyx Interiors shades are available in many different sizes so you shouldn't encounter any problem finding the perfect fit.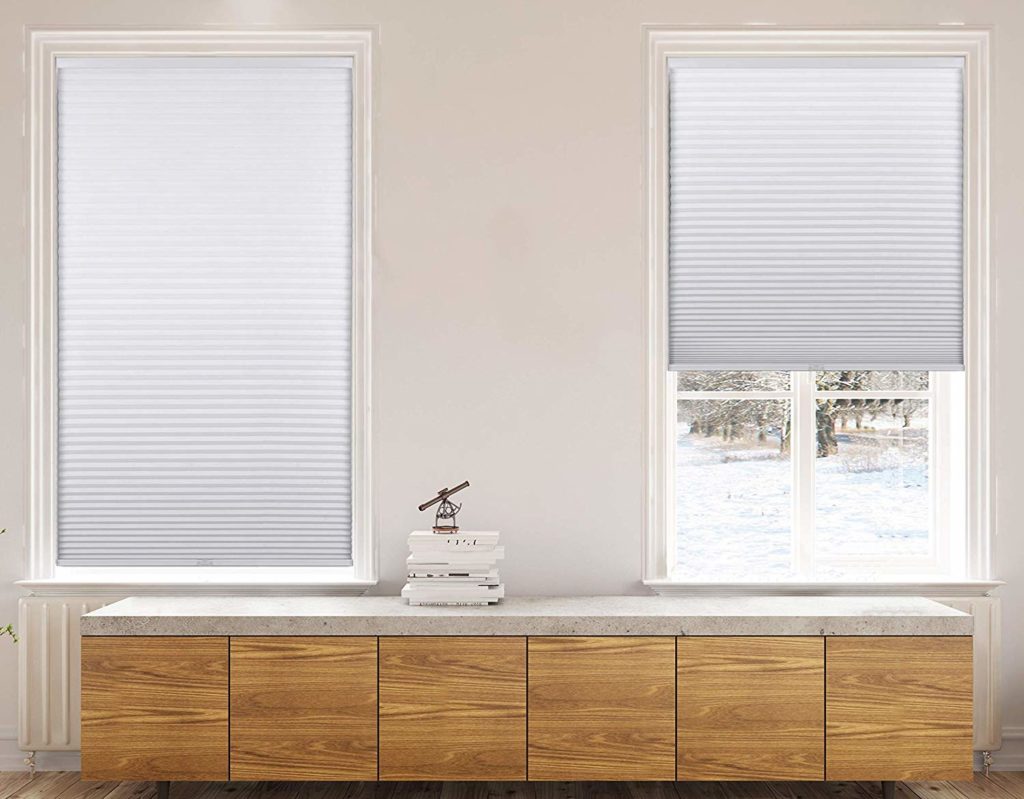 One thing I dislike is the fact that you only have 2 color options to choose from.
These blinds are ideal for the bedroom bathroom, your home office or any other room in your house where you want to insulate, as well as blocking outside light from entering.
These shades will save you a lot during the summer and in winters too because the honeycomb design helps to trap in hot and cold air which keeps your room warmer in the winter and colder in the summer.
I highly recommend these high-quality blinds if you're serious about turning down the background noise.
---
4. Achim Home Furnishings Vinyl Blinds – Great Quality
These solid build blinds are made with vinyl slats and two-in-one valance. It is a sound-absorbing material that's great for blocking unwanted noise. The Achim Home Furnishings Vinyl Blinds are considered to be one of the most popular customized window blinds on the market.
These blinds are very thick which also helps to contribute to the noise reduction element. It's hard to go wrong with these quality blinds, just make sure that you order the right dimensions to fit your windows.
Even though you'll have the option to send them back and order a different size.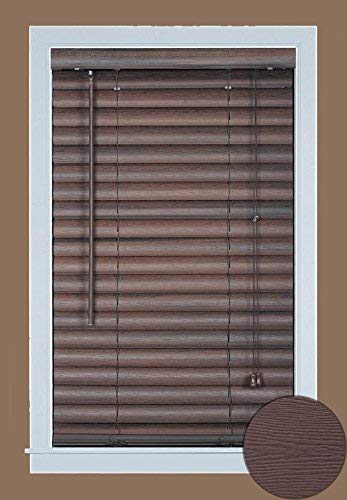 You can also shorten the length of the blinds by simply following the instructions provided in the manual that's provided upon purchasing.
The slats are extremely durable because they're waterproof, non-chip and do not dent or break apart easily. However, you should be aware that this blind does have cords so it may not be the right choice for homes with young children and pets.
You can easily raise, tilt or lower them to your preference. These blinds are great for the kitchen, bedroom, basement or bathroom.
5. Luxr Blinds Custom-Made Real Wood Horizontal Window Blinds – Best Value For The Money
These are nice looking and durable blinds that absorb sound well. They're made out of pure and genuine basswood. Wood is known to be a great noise blocker and thermal insulator.
As you can see these blinds are extremely durable considering the material they're made from. This well polished wooden blind can last you for a very long time without breaking apart and they can also be easily cleaned.
Cleaning will only take you about 20 minutes maximum, simply get a damp cloth and wipe out dust from the blinds.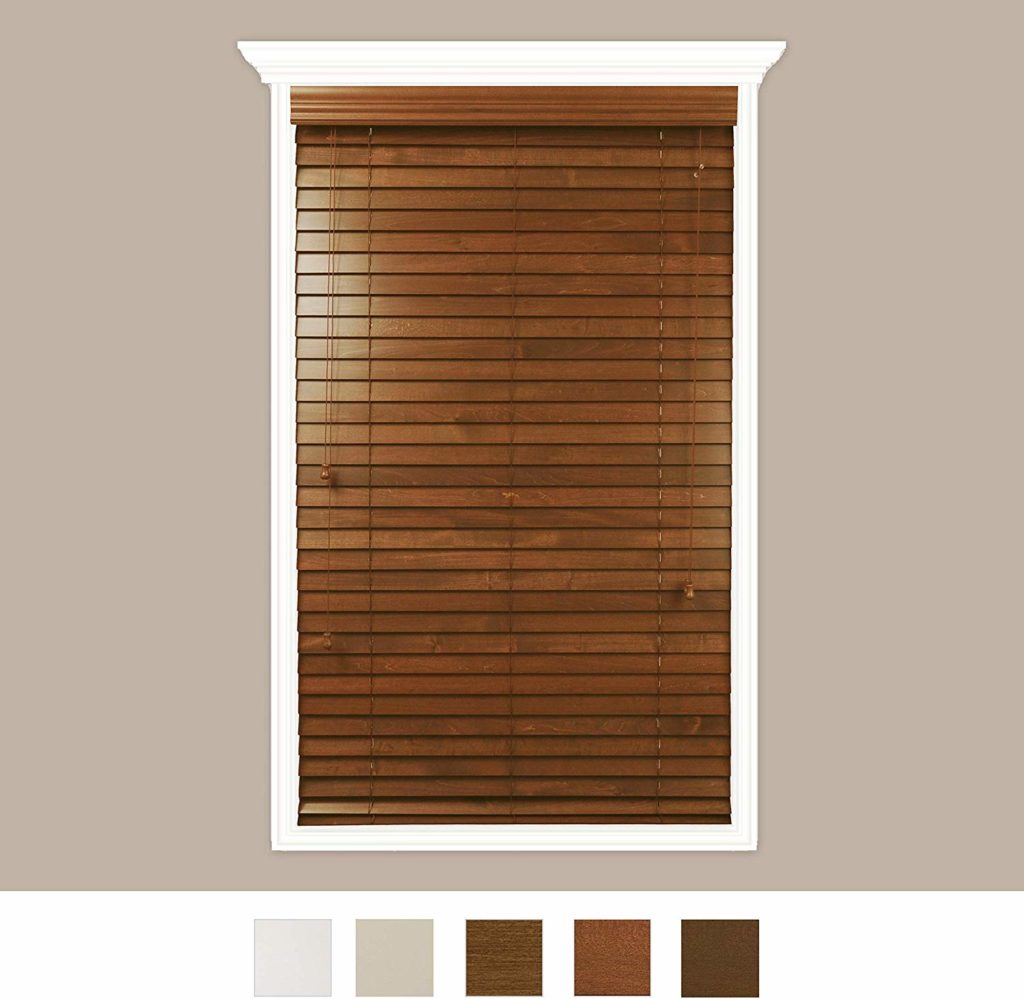 You can easily install these blinds on your windows since they come with an instruction manual and an inside mount. You also have the ability to contact customer support to help you if you're stuck or confused during the installation process.
Make sure to double-check when choosing so that you get the right fit for your windows. You should read the measurement requirements to avoid the trouble of returning the blinds due to purchasing the wrong size.
It's available in many different sizes and you have 7 different colors to choose from. If you're serious about noise reduction and privacy in your home, then purchasing these blinds is the right way to go.
Soundproof Blinds Buyer's Guide
Things You Should Consider When Buying Noise Reducing Blinds
Material
The material of the blind is considered to be one of the most important factors to consider when buying. Wooden, polyester and even plastic materials are most preferred when mounting on the inside of your room.
When it comes to noise reduction, soft materials are always better, because they help to absorb the echo, thus reducing the noise instead of letting it bounce off which would eventually happen if you were using a hard surface.
If you prefer installing your blinds on the outside it would be best if you purchase one that's extremely thick in order to get the best sound blocking effect.
Density
The denser the material, the better it is. So when looking to buy any soundproofing material, make sure to get one that's thick because it minimizes the possibility of gaps, making it best for thermal and sound insulation.
Size
The dimension of the blinds is very important. You should ensure that you get the perfect fit for your window.
If you purchase a blind that's too large, you won't be able to install them properly and if you should get one that's too small, it won't be able to cover the entire window area which will leave gaps on the side, making way for sound to pass through easily.
However, if you're having a hard time finding the right size, I suggest getting one that's extra-large that will hang over the frame to cover your window entirely.
Thickness
Thicker blinds are great because they'll help cancel out as much noise as possible. This is usually the case with any soundproofing material.
You should invest in a blind that is at least 10 mm thick for great noise-blocking results. Fortunately, you'll not have a hard time choosing since most blinds are thick.
Price
The last factor is the price, which is also important. You can get a decent sound-absorbing blind for a relatively cheap price. Most blinds on the market are inexpensive which is great for those on a low budget.
Tips to Get the Best Out of Your Soundproof Blinds
Get Double Cell Blinds
If you want to get the best results when it comes to noise reduction, then I recommend getting double cell honeycomb cell blinds. These blinds have two layers of cells back to back.
The double cell is far more effective compared to a single cell blind. They also provide more heat insulation which will help to keep your room warmer during winter and cooler during summer.
Use Blinds With Curtains
Pairing your blinds with noise reducing curtains is a great idea if you want to muffle any sound that makes it through the blinds. This combination is perfectly suited for your office or bedroom.
I only recommend this combination for those who are serious about eliminating as much outside noise as possible. But if you're on a tight budget, this is probably not the best option for you since these curtains can break the bank. Instead, I suggest that you use any thick curtain with at least a couple of fabric layers.
Want to pair your noise reducing blinds with curtains? Read my guide to soundproof curtains to learn more.
Use Weatherstripping
I'm pretty sure you've heard about weatherstripping before. Weatherstripping is one of the cheapest and most effective sound deadening material for soundproofing projects.
If you look closely at your window frame you may notice that when you close the window it doesn't close completely flush with the frame. So what you can do is use this product to seal all the gaps and cracks in your window and that way you'll be able to prevent sound from passing through.
Install Acrylic Panels
Another effective window soundproofing method is acrylic panels. This method works magic because it helps to improve your window's sound resistance by creating an additional air pocket in your window which helps to further muffle unwanted sound from making its way into your house through the window.
First, you'll need to measure the size of the window (including about an inch of the frame).
After your finish, you should visit your local hardware store and get these panels cut into sizes.
The last step is to fix this securely onto your window frame using a strong acoustic sealant.
Rearrange the Furniture
This may sound a bit strange but rearranging your furniture can make a huge difference to your acoustics.
You can start by moving your bookshelf, sofa and closet next to your wall or where the sounds make its way into your room. If you place the furniture next to the window it will cancel out a lot of unwanted noise from entering.
Additionally, adding thick rugs or carpet on your tiled or paneled floor will help further muffle any sound vibrations that make it through your window and travel through the walls into your floor.
Conclusion
There are many different blinds on the market but not all were created to block sound. This list consists of the best soundproof blinds money can buy. You should keep in mind that no blinds will completely block noise from entering your room, but they'll help to dampen sound to a significant level.
To obtain maximum results, it's recommended to combine them with other noise proofing methods.
Also check out my article on the best quiet bed frames